Key Characteristics
The following are true of a pictograph:
Pictures or symbols are used to represent the frequency of data values in a data set.


Each picture or symbol may represent one or more of the same data values if noted.


It allows comparisons between and among quantities to be made.


It can be a dot plot.


Example
Use the link below to further study examples of a pictograph.
Pictograph Activity

Non-example
Favorite Pet
is a bar graph.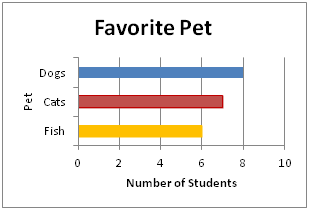 TEKS: K(8)(B), K(8)(C), 1(8)(B), 1(8)(C), 2(10)(A), 2(10)(B), 2(10)(C), 3(8)(A),
3(8)(B)